Dec 18, 2020
Posted By: admin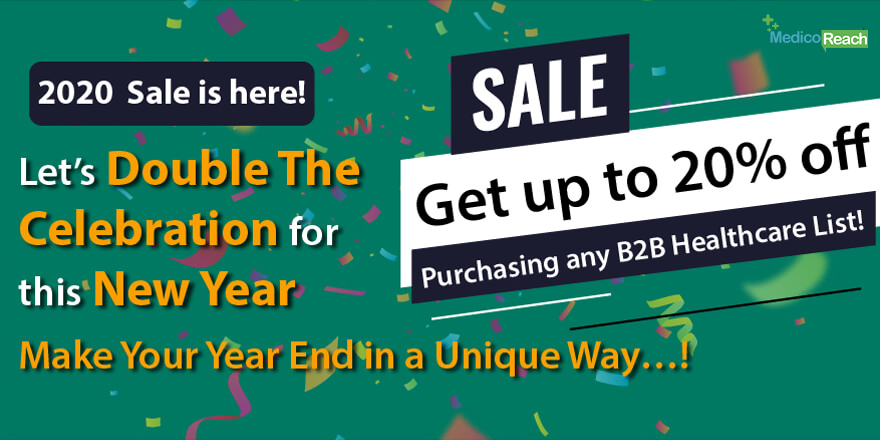 Austin, TX, December 18 2020: MedicoReach believes in bidding goodbye to the year with a bomb of sale. This year 2020, has been packed with challenges for B2B marketers, and we could not stop from putting out a bonanza sale to ease the pressure.
So, we at MedicoReach have come up with a year-end offer on all sorts of healthcare lists. Let's sneak into the details of the offer and avail to excel!
Get up to 20% off on purchase of any B2B healthcare lists of
more than $2020.
Please Note: The offer begins from 21st Dec 2020 till 1st Jan 2021
This is not the first time MedicoReach has come up with a year-end offer for its customers. Every year, we try to bring forth a surprise offer for all to speed up the businesses and, most importantly, motivate the customers to put forward better efforts for the coming year alongside our B2B healthcare email lists.
Data is a basic requirement for any B2B healthcare company to launch its campaign, and we share the same objectives as them, i.e., to bring success by the end of the campaign. Therefore, MedicoReach offers you a list of accurate, original, responsive, and potential B2B healthcare prospects that will take an active interest in your business and join the wagon.
Our data solutions help you communicate directly with targeted clients and promote your medical products and services widely. Not only this, you get ample business recognition worldwide with our B2B healthcare lists.
About MedicoReach
We are healthcare data providers in the B2B industry for years and have been one-stop for all needs of our clients. Our business lists are not confined to one location, sub-field, or specialty. We have expanded ourselves all these years and offer a worldwide customer base. Our data repository supports the business aspirations of many by catering in a personalized form. Our faith is in serving the best and make a remarkable name in the B2B healthcare industry.
For More Details:
Send your Query to us: www.medicoreach.com/contact-us/
Email us: [email protected]
Call us: +1-214-396-5617