Recreational Therapists Mailing List
More than 24,968 recreational therapists contact addresses made available.
Step into unexplored markets using our Recreational Therapists Email List to expand your reach and get better business returns from every campaign. Ensuring maximum success from your marketing initiatives, we at MedicoReach make that extra effort to build a list that addresses your data challenges and helps you in running data-driven campaigns with the support of accurate and verified data.
MedicoReach's Recreational Therapists Mailing List is a proven example of uncompromised data quality and increased success rate. We have a team of top data miners who dig into reliable sources to fetch authentic data that adds value to your campaigns and assist you in reaching the right prospect with a personalized message.
Features of the Recreational Therapists Email List :

Contact details of more than 24,968 recreational therapists

Only complete and up-to-date data included

Strictly verified records of prospects

Data segmented into multiple selects
Customize our Recreational Therapists Email List by:
Total Number of Recreational Therapists in the US by State (in numbers)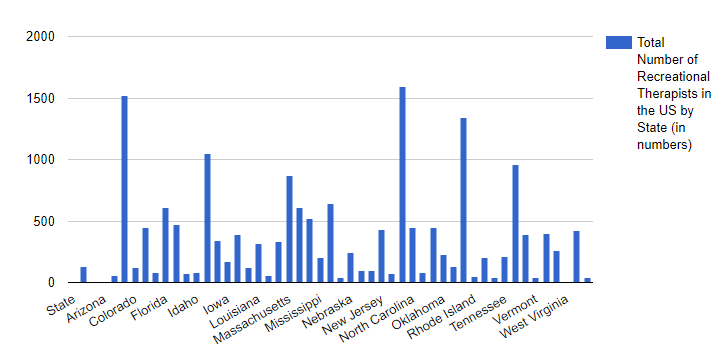 Who are Recreational Therapists?
The main purpose of recreational therapy is to improve and maintain the complete well-being of an individual including his/her physical, social, emotional, cognitive, and spiritual functioning using recreational activities rather than only relying on medical treatments. Recreational therapists are certified to provide such services to help patients by curing their diseases in a creative and activity-oriented way.
There are various techniques used to provide recreation to patients including sports, games, dance, drama, music, community outings, arts and crafts, and animals. The recreational therapist helps people come out of their stress, anxiety, and depression through activities that are fun and enjoyable.
In today's fast moving life, having psychological and emotional issues are quite common. Hence, the demand for recreational therapists is bound to increase to address the concern and uplift people's life from the within to keep them healthy and happy. If you want to connect with these healthcare professionals via mail, email or telephone, then having our high-quality Recreational Therapists Email Database in possession is a must.
Reasons to Select MedicoReach as Your Ultimate Destination of Authentic Database
Outdated data and irrelevant information are only going to hinder the performance of your campaigns across various channels. Data accuracy has been a key factor for marketers but getting access to a database that delivers up-to-date data is difficult. At MedicoReach, we develop lists of business contacts that are collected from reliable sources such as trade shows, seminars, healthcare directories, medical records, and more. When you use the data we offer and target your prospects, chances of reaching the correct inbox is maximum. Adhering to strict industry standards, our team compiles, maintains, and validates each record before including them in our healthcare database.
Helping marketers expand their market reach and target prospects located anywhere in the world, MedicoReach has establishes its well-connected data partners' network across USA, UK, Canada, Europe, Asia, North America and Australia.
Information We Offer in Our Database
Contact Us Now!
For more insights into how MedicoReach's accurate and customized Recreational Therapists Mailing List can trigger the success of your marketing campaigns both online and offline, call us at 1-888-664-9690 or email us at [email protected].