Expand Marketing ROI using the Medicoreach Hospital CEO Email List and Further Benefit from:
Get 24,987 Hospital CEO contacts records
Streamlined B2B communication
Accurate information on qualified leads
Higher engagement with high response
About Our Hospital CEO Database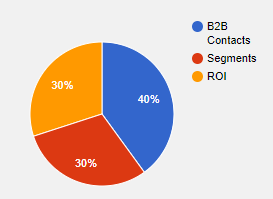 Are you searching for ways to promote your medical equipment or healthcare medications? Maybe you'd like to connect with relevant hospitals to grow and build your business.
At Medicoreach, we offer a comprehensive and immensely accurate hospital CEO email list to ensure precisely that! With data sourced from pre-verified and legitimate channels, our hospital CEO database is the perfect marketing list to get a detailed insight into your audience segment and initiate communication.
Data Segments such as location, years of experience, SIC code, hospital affiliation, type of practice, and more make it easy for your team to create and execute targeted campaigns for higher ROI. Consequently, you can use the hospital CEO mailing list to expand marketing outreach outside regional boundaries.
We further ensure your hospital contact list is complete, thorough, and validated hospital with extensive evaluation and severe verifications.
With years of experience, Medicoreach has established itself as one of the leading B2B data solutions providers. As such, our hospital CEO email list is designed to ensure higher revenue in every investment made in marketing and sales.
Reach out to us today to secure a hospital CEO database that will take your business to the next level!
Avail the Best Data Solutions from Our Other Sub-categories
Explore Numerous Market Opportunities with Customized Hospital CEO Database
FROM OUR SUB-CATEGORY OF HOSPITAL CEO LISTS
Our CEO mailing list is segmented into multiple categories on the basis of different geographical, physical, and professional demographics. As a result, medical marketers with specific requirements can easily address their needs with a tailor-made marketing list customized as per their selected data fields such as:
Geography
Medical Institution
License number & state
Years of Experience
Sub-Specialties
Gender
Clinic
Hospital affiliation
Type of Practice
Information Provided in Our Hospital CEO Contact List
From complete name to SIC codes, our database has all the information healthcare marketers may need for connecting with their targeted hospital CEOs and other professionals. We offer precise details about the particular customer profile, including:
| | | | | | |
| --- | --- | --- | --- | --- | --- |
| Name | Address | City | State | Phone Number | Email Address |
| Barbara Singer | 11**, Main Street | Franklin | Massachusetts | 516 – *** – *2** | barbara.S*n**@*******.com |
| Terra Lewis | 32*, Jenser Dr | Houston | Texas | 972 – *** – **** | Ter**.bh**@**********.com |
| Michel Williams | 6**,S Broadway | Los Angeles | California | 808 – *** – *45* | Mich**W**a*s@de*****.com |
| Kevin Thomas | 7* St, Charleston Eve | Mattoon | Illinois | 314 – *** – **25 | K***nmas**a@hea*****.com |
| Jessy Scott | 10*, 9th St | Millville | New Jersey | *** – 532 – **** | Jes****sc**cs@hr****er.com |
Want to Test Before You Invest? Ask for Free Sample Email List Here!
What Makes Our Hospital CEO Database the Best in the Market?