Oct 10, 2022
Posted By: admin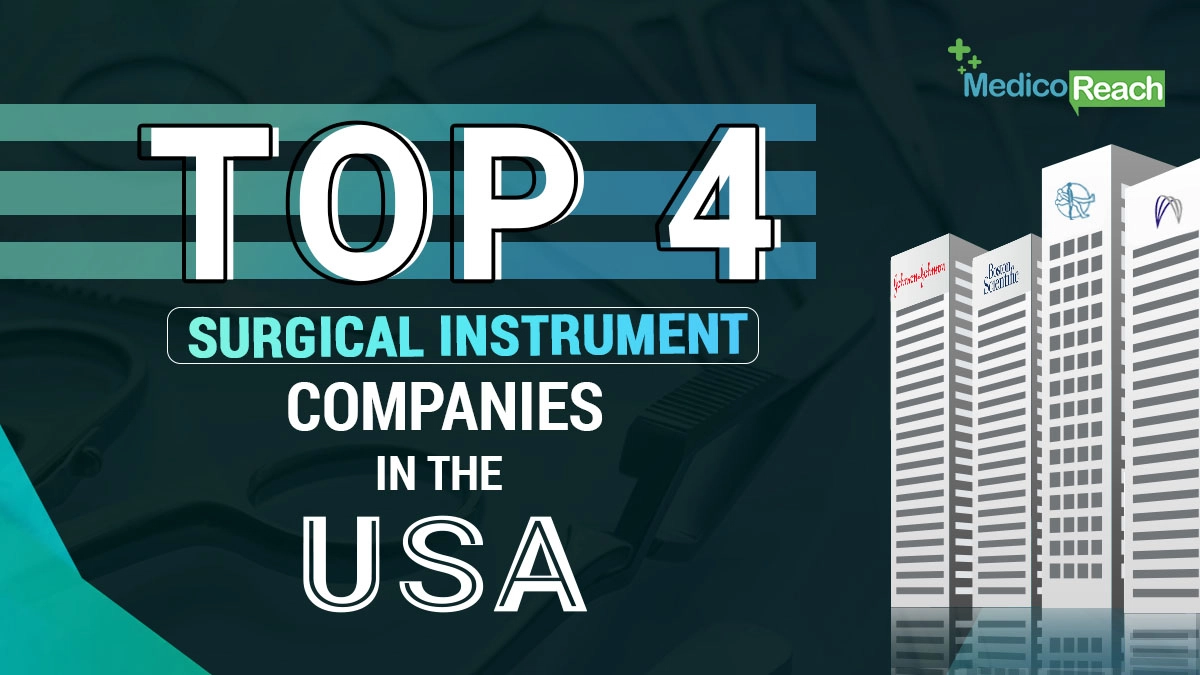 Surgical Instrument Companies are expanding steadily, with a considerable number of new companies joining the market every year. To distinguish them from their competitors, American medical and surgical equipment firms must provide high-quality, long-lasting medical instruments, build and maintain their reputation, and promote efficient and straightforward communication with consumers.
Top Most Companies By Market Cap
The following is a list of the top four surgical instrument companies in the United States.
1. Johnson & Johnson


Johnson & Johnson is a worldwide corporation that manufactures not just medical devices and surgical gear but also medicines, biotechnology, and products for personal hygiene. Ethicon, a J&J subsidiary, manufactures the majority of surgical and medical devices.
What distinguishes J&J from many other manufacturers of basic surgical tools and surgical instrument companies is their extensive experience in the business. J&J has a long history of leading the way in the development of surgical instruments and surgical equipment, dating back over 130 years.
This medical tool manufacturer was established in New Brunswick, NJ, and got the credit for being the first to bulk-produce sterile sutures, in addition to surgical dressings, gauze, and cotton.
Biosurgery is another area of focus for J&J in terms of surgical equipment and medical devices. J&J seeks to develop technology and innovation to reduce intra and post-operative problems. These biological treatments reduce the expense of formerly costly and difficult-to-control operating situations, such as persistent bleeding.
This firm is likewise making strides in the field of wound closure, and it has a complete wound closure portfolio.
Johnson & Johnson has a market capitalization of $433.95 billion as of September 2022, and it is now the world's tenth most valuable firm by market capitalization.
2. Medtronic


Medtronic is one of those surgical instrument companies that Fortune Magazine ranked among the top respected corporations in the world. Medtronic has a market capitalization of $117.33 billion as of September 2022. It is now the globe's 100th most valued business by market capitalization.  Medtronic is a pioneer in developing innovative surgical equipment. The institution's specialized products encompass ablation technologies, electrosurgical hardware and tools, smoke ejection, ultrasonic dissection, and vascular sealing.
Medtronic is a significant worldwide corporation that specializes in a wide range of surgical equipment, surgical supplies, as well as surgical instruments. The categories for these instruments include:
Cardiovascular
Digestive and gastrointestinal
Spinal and Orthopedic
Diabetes
Ear, nose, and throat
Urological and urogynecological
Patient care
Surgery
Respiratory
Neurological
Medtronic is one of the surgical instrument companies on this list that has additional focus areas in addition to excelling in innovations ranging from basic surgical equipment to sophisticated surgical instruments. These are some examples:
Product, therapy, and service innovations to increase hospital efficiency
Clinical education, medical reports, and practice support are all provided
Innovative technology mixed with education programs
All medical disciplines have valuable resources
Medtronic Academy educating people about cardiovascular treatment and cardiac rhythm
Development of less invasive therapies
3. Boston Scientific


Boston Scientific is among the world's leading surgical equipment manufacturers, treating approximately 22 million patients every year. Moreover, it has a commercial presence in more than 100 countries. Boston Scientific ranks among the world's most prominent innovators  and producers of surgical and medical tools. Every year, this surgical instrument company serves millions of clients and provides 13,000 surgical items.
This market leader in surgical equipment has over $8 billion in annual sales and has invested nearly $876 million in development and research. Boston Scientific has a market capitalization of $59.36 billion as of September 2022.
Some of the specialties include:
Electrophysiology
Female pelvic medicine
Gastroenterology
Orthopedic surgery
Pain medicine
Pulmonology
Urology
Gynecology
Interventional Cardiology
Interventional radiology
Neurological Surgery
Vascular surgery
4. Hospira


Hospira is a surgical equipment firm that is part of Pfizer Corporation and is one of the leading surgical tool producers. It provides injectable medications and infusion technology. Its product range comprises generic acute-care, cancer injectables, and also integrated infusion treatment and medication management.
The business is divided into multiple reportable segments: America, Europe, the Middle East, and the Asia Pacific.
Hospira sells a diverse range of products across all segments, such as Specialty Injectable Pharmaceuticals (generic injectables and patented technology specialty injectables). It also sells Medication Management (syringes, related services, and software committed administration sets, gravity administration sets, and other products) and other pharmaceuticals (huge quantity intravenous solutions, nutritional supplements, and contract manufacturing).
Its products are utilized by hospitals, dispensaries, home healthcare services, and long-term care institutions. Hospira was created on September 16, 2003, and is based in Lake Forest, Illinois.
This leading producer of surgical equipment offers the following infusion equipment and systems:
Lifecare PCA Infusion System
Plum 360 Infusion System
SapphirePlus Infusion System
Sapphire Infusion System
Pump Accessories
Wrapping Up
The medical device sector like dental equipment surgical companies, orthopedic and spine device companies which includes the production of surgical instruments and tools is vast and expanding. Surgical instrument companies broadening their reach and establishing themselves as one of the world's most influential businesses. The above-given evaluation and analysis of prominent surgical equipment companies and suppliers are the finest firms in the world, those recognized for innovation and excellence.