Feb 17, 2023
Posted By: admin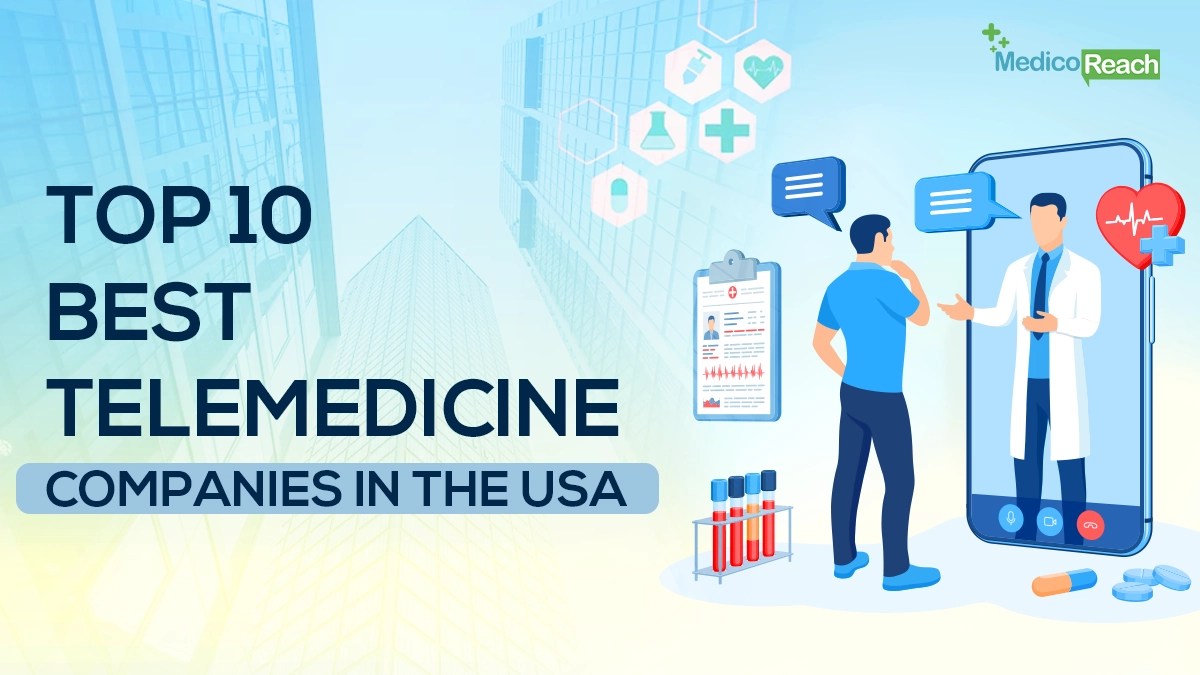 Nearly every business and industry related to healthcare have been severely disrupted by the COVID-19 outbreak. Understandably, almost 30% of Americans skipped all doctor visits last year, given the spiraling price of healthcare and the increasing complexity of our daily lives.
As a result, telemedicine is now the safest area of medicine. The COVID-19 pandemic's unexpected silver lining has evolved into telehealth, which will last for at least another ten years. As more people become ready to benefit from the convenience of digital healthcare, the demand for telemedicine is anticipated to increase by 38% over the next five years.
This article will discuss the top 10 best telemedicine companies in the USA. By reducing barriers and promoting individual wellness management for everyone, these telemedicine businesses are assisting in transforming how we seek medical attention.
The following sections will discuss the top 10 best telemedicine companies in the USA.
1. Teladoc

Headquarters: New York
Revenue: $2B
Employee Size: 1,001-5,000 employees
Website URL: https://www.teladochealth.com/
One of the first American telehealth businesses was Teladoc. Physicians and patients continue to have a very positive opinion of the organization. Teladoc Health was formed by the principle of "Everybody should have access to the best medical care, wherever they are in the world".
By offering whole-person virtual care, which encompasses primary care, chronic disease management, and more, they are now fulfilling their purpose. They communicate with patients using user-friendly software and telehealth equipment of the highest caliber. Teladoc's specialists help with dermatological, mental health, and smoking cessation issues in addition to basic general care requirements.
2. MeMD

Headquarters: Phoenix, AZ
Revenue: $29.8M
Employee Size: 51-200 employees
Website URL: https://www.memd.net/
MeMD provides on-demand telehealth services that are excellent, practical, and reasonably priced. To 5 million members worldwide, it provides telehealth and virtual care services. They serve as a link between competent medical professionals and patients who still want to be treated for the underlying problem.
The company services are divided into two prominent parts – medical solutions and behavioral health solutions In the case of common illnesses and injuries, the former can significantly reduce the time it takes to consult a doctor. While the second helps you connect with licensed professional counselors, family and marriage therapists, clinical social workers, instantly.
3. MDLive

Headquarters: Miramar, Florida
Revenue: $100.0M
Employee Size: 485 employees
Website URL: https://mdlnext.mdlive.com/
2009 saw the launch of MDLive. The organization is constantly forming alliances with healthcare systems throughout the United States.
MDLive is a leading virtual on-demand healthcare service provider. The platform provides primary care, mental health, dermatology, and urgent care services around-the-clock, with certain insurance coverage options.
Additionally, MDLive services can collaborate with companies to function as health systems or incorporate them as a component of current health plans.
Thanks to their cloud-based medical solutions, they enable seamless communication between patients and healthcare professionals through video, voice, email, and mobile devices.
4. Doctor on Demand
Headquarters: San Francisco, California
Revenue: $75.9 M
Employee Size: 750 employees
Website URL: https://doctorondemand.com/
For 24-hour virtual healthcare for the body and mind, patients can turn to Doctor On Demand. It encompasses emergency care, mental health, chronic care, urgent care, preventative care, and behavioral health services. Furthermore, the telemedicine company provides specialty care including diagnosis and treatment plans for complex health issues. Being able to add a doctor to one's "favorites" is one feature that distinguishes Doctor on Demand from its rivals.
5. Amwell

Headquarters: Massachusetts, Boston
Revenue: $30M
Employee Size: 800 employees
Website URL: https://business.amwell.com/
The two american brothers who are the physicians founded the Amwell, formerly known as American Well. They aimed to reduce the price of basic healthcare and get rid of restrictions like time, mobility, and distance.
In contrast to its rivals, Amwell develops its platform in close coordination with numerous partners and stakeholders to adapt to changing market demands. The business disclosed in June 2021 that it had acquired Conversa Health, a pioneer in automated virtual healthcare, and SilverCloud Health, a digital platform for mental health.
Amwell healthcare modules and programs include virtual primary and urgent care, dermatology and Musculoskeletal care, as well as comprehensive behavioral care among others.
6. LiveHealth Online

Headquarters: Indianapolis, Indiana
Revenue: $8.6M
Employee Size: 22 employees
Website URL: https://livehealthonline.com/
Any patient searching for an easy way to manage their mental health treatment and get on-demand care for minor illnesses can consider LiveHealth Online.
Numerous healthcare plans are accepted by LiveHealth Online, offering affordable prices and no recurring monthly fees. Customers can easily make an appointment when necessary to obtain treatment virtually quickly for common problems and conditions like Flu, Minor rashes, pink eye, allergies, etc.
7. Virtuwell

Headquarters: St Paul, Minnesota
Revenue: $5M
Employee Size: 51-200 employees
Website URL: https://www.virtuwell.com/
Virtuwell is an online medical platform that offers reasonable consultation fees and 24/7 access to a daily health balance system. Virtuwell pairs patients with board-certified nurse practitioners to provide diagnoses and suggested treatments after a short questionnaire.
They have a team of doctors and healthcare professionals who work in all areas of healthy living impediments, including skin and rash care, children's healthcare, eye, and ear care, cough, and allergy treatment, and chronic care.
No matter the reason for the visit, Virtuwell appointments are always the same cost and accept health insurance from more than 15 carriers.
8. PlushCare

Headquarters: San Francisco, California
Revenue: $16.7M
Employee Size: 57 employees
Website URL: https://plushcare.com/
PlushCare, a doctor's office on your phone or computer, was founded by Dr. James Wantuck and Ryan McQuaid. James, a doctor, is aware of how problematic the healthcare system is.
Ryan had also spent a lot of time waiting for doctors. Customers of PlushCare get access to virtual solutions for primary care issues as well as the option to schedule same-day appointments with in-network physicians.
They pick doctors and general surgeons from the top 50 American medical facilities to guarantee that patients receive the best care available. It provides urgent care services for back and neck pain, tooth infections, sinus infections, and UTIs as well as offers online therapy services.
9. HealthTap

Headquarters: California
Revenue: $65M
Employee Size: 51-200 employees
Website URL: https://www.healthtap.com/
Since 2010, Health Tap has been one of the top healthcare platforms, providing the public with the greatest medical guidance. Whether patients have insurance or not, it's not a problem here.
Health Tap is a virtual healthcare support team of 90,000+ professionals that offers primary care, women's and children's healthcare, chronic care, mental healthcare, and more.
HealthTap's major feature is the free ability to ask a network of U.S.-licensed doctors health questions online and via mobile devices. Additionally, they provide the option to schedule a video conference, telephone call, or text chat consultation with a doctor to connect with them immediately.
10. Doximity

Headquarters: San Francisco, California
Revenue: $344M
Employee Size: 887 employees
Website URL: https://www.doximity.com/
Doximity is a website that connects medical practitioners. The website, which was introduced in 2010, gives its users access to case collaboration, telehealth capabilities, and curated medical news.
More doctors than the American Medical Association are Doximity's medical network members. This includes many nurse practitioners, physician assistants, and pharmacists.
Doximity is the only technology that clinicians have embraced as swiftly as the iPhone.
To Sum Up
Patients would use telemedicine to manage medicines, according to 93% of respondents in a survey.  Due to the high benefits of telehealth technology, millions of virtual medical facilities compete with one another in the highly competitive field to expand their healthcare operations . These were the top 10 best telemedicine companies in the USA.
By collecting the whole healthcare industry's knowledge, businesses may expand their telehealth reach and increase customer engagement.