The global medical technology industry is growing at a rapid pace with total market value estimated to reach 430 billion dollars. These facts are indicative of the increasing popularity of MedTech including wearable, gadgets, apps, and smart healthcare devices. As more and more people invest in their well-being and keen to make the right health choices, the demand for advanced technology that can supplement their need is obvious to grow.
Even hospitals are using hi-tech equipment to diagnose and provide treatment to patients. With cutting-edge technology making its way into the world of medicine, people are increasingly relying on gadgets and wearable devices to track and monitor their health. From smartwatches measuring blood pressure to fitness trackers monitoring calorie intake, today's healthcare gadgets and smart technologies are transforming the entire healthcare outlook and the way patients care for themselves.
Here are the best five advanced and innovative wearable devices and healthcare gadgets for patients especially for the millennials group that they can invest in 2019 for better health monitoring.
HeartGuide Monitor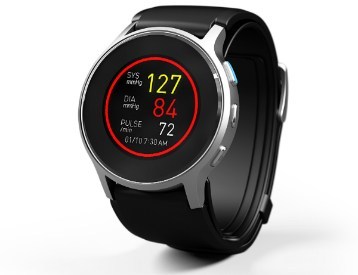 Fluctuations in blood pressure can lead to heart problems, causing strokes and other heart-related diseases. However, with the monitoring of one's blood pressure at home patients can stay informed and thus prevent sudden occurrences of blood pressure increase or decrease below the average level.
Omron HeartGuide is a smartwatch and perhaps the world's first wearable device that comes with oscillometric blood pressure monitor. Using this smartwatch, patients can get access to their accurate and precise blood pressure data at anywhere. There are no cuffs, wires, hoses or anything similar attached to the monitor like the other smartwatches available in the market.
The wearable device is made of synthetic material which can both be inflated and deflated without damaging its original shape and so can easily fit on any wrist. The gadget runs on Lithium-Ion battery, has a bunch of useful sensors and an LCD screen for a clear view. Using healthcare smartwatch, patients can monitor blood pressure even at night and can also track sleep, heart rate, and steps walked. As a whole, the device can work as a fitness tracker as well. HeartGuide has both Android and iOS apps to support mobile viewability.
KardiaMobile EKG Monitor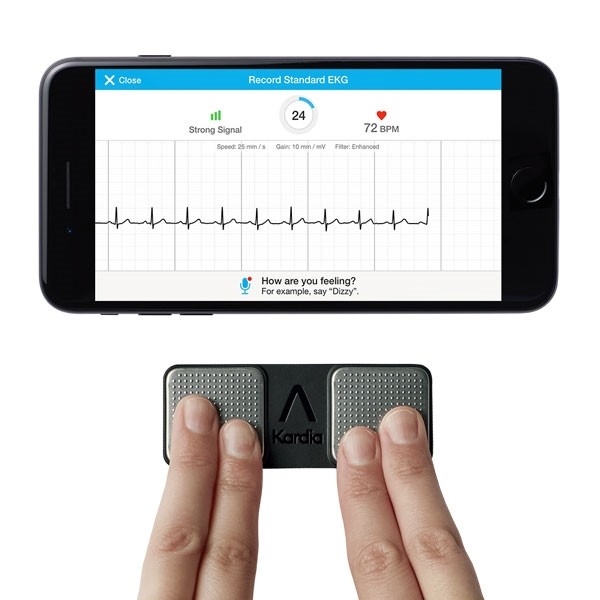 KardiaMobile is a clinical grade, FDA-cleared EKG monitor that can provide quick EKG reading in 30 seconds from any location at any time. The patient needs to put their fingertips on each of the two sensors or KardiaMobile pads. The device comes with Android and iOS apps that work fine with most of the smartphone and tablets. Once you put the fingers on the sensors, the app of the device records EKG reading and give accurate results within 30 seconds.  This data can later be printed out for showing it to the cardiologist or for future reference. You can store the EKG data in the smartphone as well as you can email it to your doctor.
However, the device app is not compatible with every smartphone and is currently compatible with iPad, iPhone, Motorola G series Gen2, Samsung Galaxy Series phones, LG Nexus, Huawei Mate and Google Pixel.
Thermo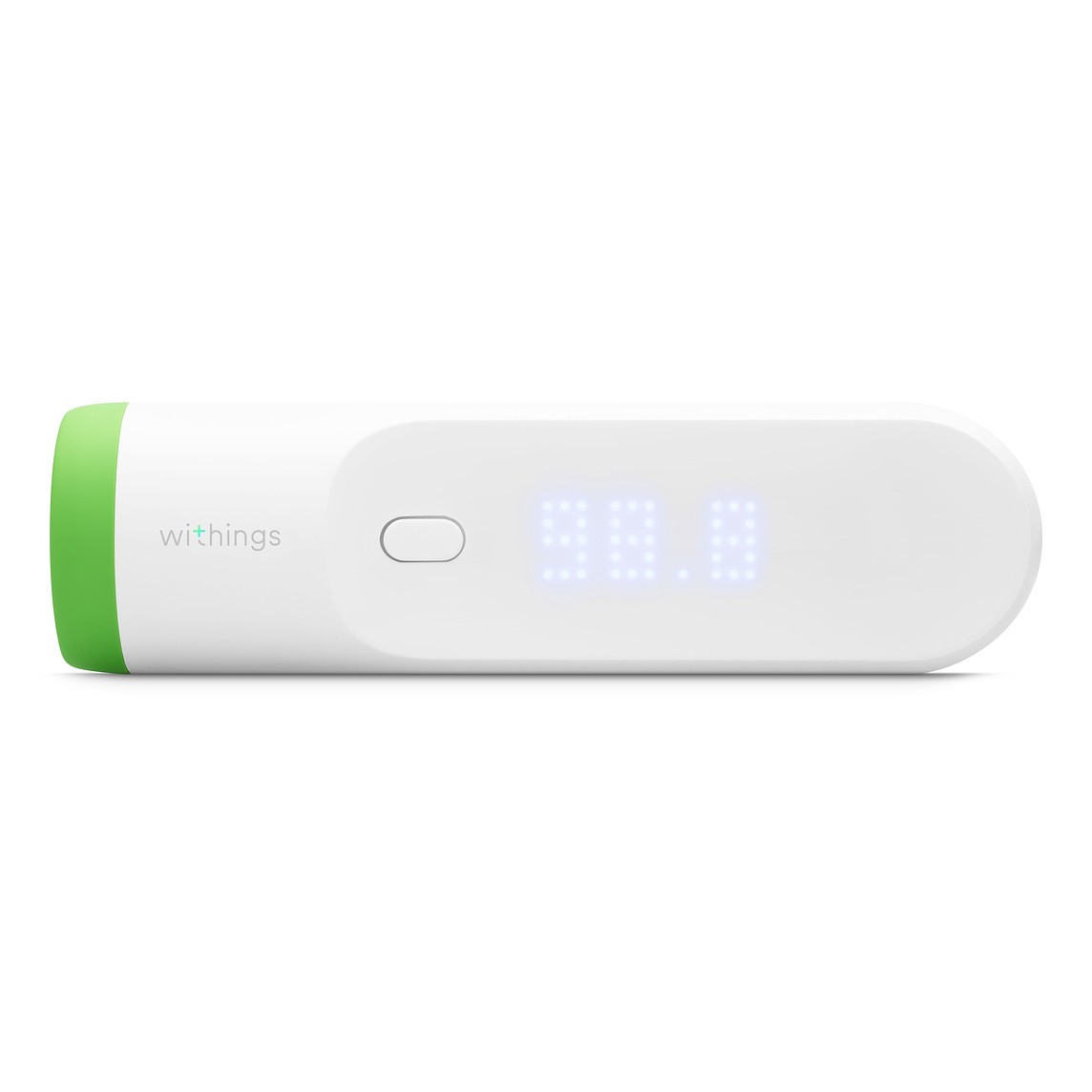 The use of traditional thermometers to capture body temperature is time-consuming and uncomfortable at times. As technology keeps innovating the healthcare space, patients have now, access to an advanced temperature measuring devices like the Nokia Thermo. This healthcare gadget is convenient to use and delivers accurate results with temperature measurements. It just takes two seconds to make 4,000 separate temperature measurements to give you the exact reading.
Thermo is a smart healthcare device that scans your skin and requires no direct contact with the skin. It has 16 infrared sensors. The device vibrates on completing the recording of temperature. For each family member, you can create a separate profile using the app that comes with the device. The healthcare gadget can store 32 different temperatures. You can connect the device with your smartphone using Wi-Fi or Bluetooth and access the recording data via its Android or iOS supported app.
CleanWave Portable Sanitizing Wand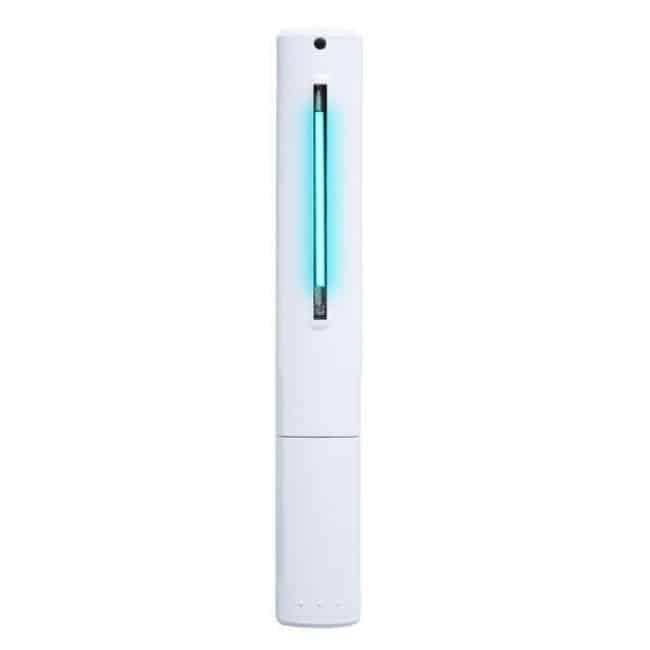 The CleanWave UV-C Portable Sanitizing Wand is another technological success in the healthcare field. The gadget runs of advanced UV-C technology that helps to kill allergens, germs, and odor-causing bacteria from any hard surface like cell phones, toys, music systems, laptop, etc.  It comes in the shape of a wand that measures 10" in length and is pretty slim to hold for carrying it anywhere. The device features an indicator light that turns on once the device is active for use. To eliminate germs from a particular surface, you just need to hold the band over the area for 30-60 seconds, and after that, it's done. It is indeed a quick process to get rid of the harmful germs.
The Verilux CleanWave Wand can protect people from dangerous pathogens such as E-coil, H1N1, MRSA and so. Once the wand is kept in a horizontal position, the UV-C light turns off which adds to the safety of the user from unnecessary exposure to the light as the device is not to be used on humans, animals, and food.
Emotiv Insight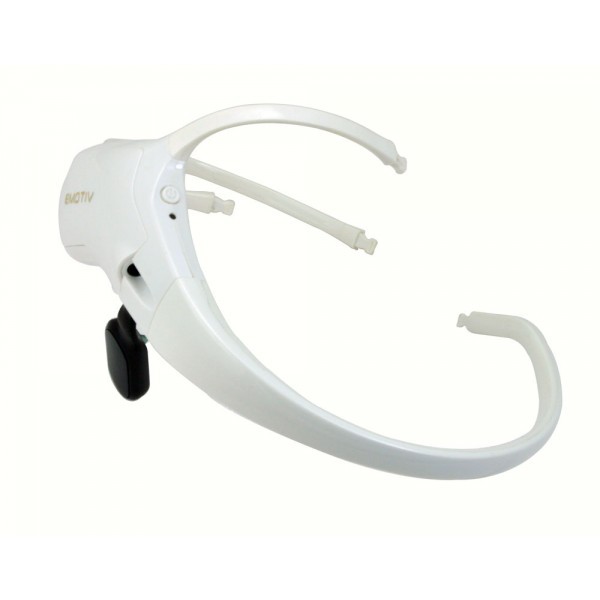 Emotive Insight is a wearable device that monitors brain waves to track and report the cognitive performance of an individual's brain. The healthcare tech creates electroencephalograms which contribute towards accessing useful data and insights which can be used to increase focus and cognitive performance, reduce stress level, boost motivation, etc.
This device is an advanced brainware used for the brain computer interface. To use the gadget, one needs to wear the Insight headset which has five channel EEG capabilities and nine axis motion sensors to detect head movement. The headset is rechargeable with up to nine hours of battery backup. It can be easily connected to your mobile devices and PC. Moreover, it has semi-dry polymer sensors that are convenient and easy to clean. Using the healthcare tech, one can determine the times when they are productive the most and when they need to relax and unwind. This in return helps the user to plan their work accordingly to optimize their cognitive abilities efficiently.
Emotive Insight supports a wide range of data streams that can help to harness the power of the brain in the best way. The data streams comprise mental commands, frequency bands, EEG, facial expressions, performance metrics, and motion data.