Today, nursing homes are extremely prevalent across the world. In fact, the nursing home industry is expected to generate $151 billion in 2023.
The number of nursing homes and nurses has been gradually increasing over the past decade. And this becomes a point of importance when you consider that over 16% of the American population are senior citizens.
That means about 70 million Americans are in need of a living facility with proper nursing professionals. This subsection of the healthcare market is where the nursing home industry finds a niche to capitalize on.
Keep reading to understand the prominent role that nursing homes play in our communities today. You will find that the largest nursing home companies not only generate more revenue for the country but also offer the best living facilities for senior citizens!
An Overview of the Nursing Home Industry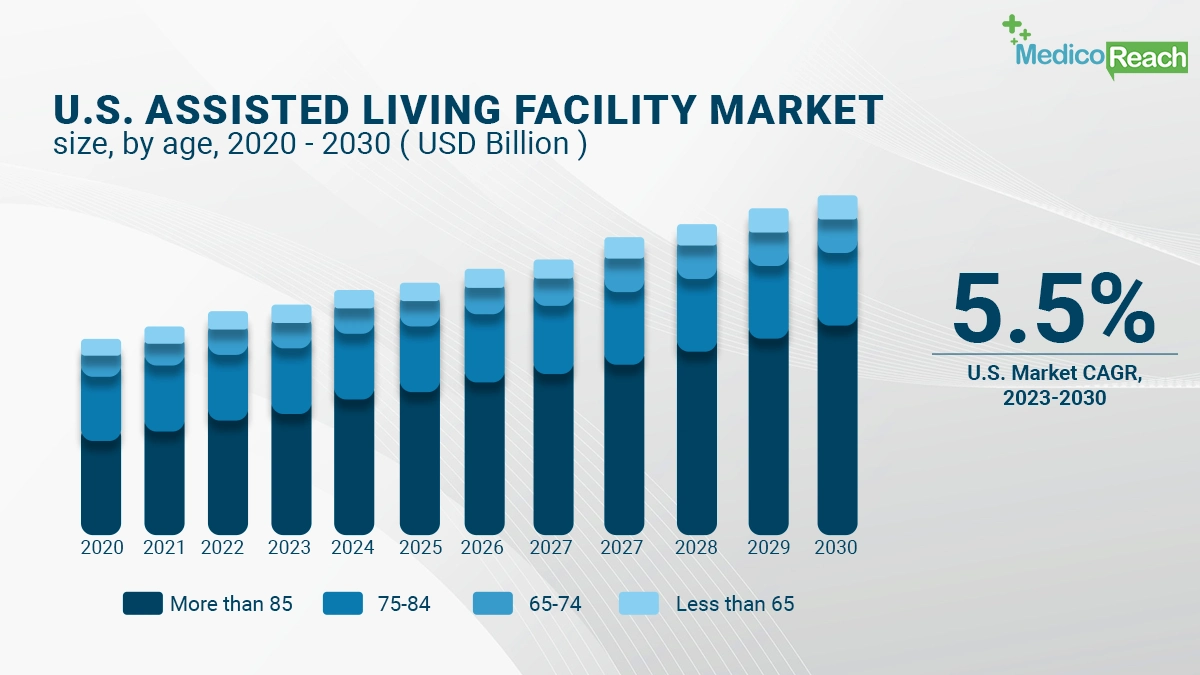 In 2022, the USA was home to more than 34,000 nursing home facilities, and this number is expected to rise further in the coming years. Following the COVID pandemic, the need for specialized nursing became even more prominent.
The question is, what exactly qualifies as a nursing home company?
To define it simply, a company that owns and operates nursing homes or skilled nursing facilities that provide long-term care for elderly individuals is known as a nursing home company.
Usually, the residents of such nursing homes require continuous medical and personal assistance.
As such, nursing home companies are instrumental in providing top-notch services. The largest nursing home companies offer a plethora of services, including assisted care, expert nursing professionals, and independent living facilities.
Some of these companies also offer rehabilitation services along with skilled care for dementia and Alzheimer's patients.
10 of the Largest Nursing Home Companies in the USA
To make the search for the ideal nursing home company for your organization simpler, we have curated a using the total number of skilled nursing facility (SNF) beds as the defining metric.
1. Fundamental Healthcare

Headquartered in Maryland, Fundamental runs 83 facilities across 10 states in the USA. This particular nursing home company only boasts of a modest SNF bed count of 9743. However, the company offers services across a diverse spectrum, including subacute care and skilled nursing.
Fundamental claims focus primarily on patient recoveries and positive outcomes above all else. Seeing as it generates just over $21 million in revenue per year, Fundamental would be one of the more cost-effective nursing home solutions in USA.
2. Pruitt Health

Pruitt Health is a nursing home company that is based out of Florida. It was established about half a century ago; Pruitt Health is a much bigger player than Fundamental in terms of facilities available and revenue generated.
While the company is only spread across 4 states, it does have 180 assisted living facilities in these states. As such, Pruitt Health is primarily focused in the Southeastern regions of the country and mints nearly $840 million in annual revenue.
The company presently looks after 24,000 patients on a daily basis with their home care, pharmacy, hospice, and nursing care services.
3. The Evangelical Lutheran Good Samaritan Society

The Good Samaritan Society runs over 156 facilities with a cumulative SNF bed count of over 10000.
The company is easily one of the largest companies in this industry, with a strong market presence in 20 states.
But, this is not a company particularly hungry for the revenue itself, given that it is a non-profit organization.
As such, the company only generates about $50 million per year in terms of revenue. Regardless, they are a nursing company with the resources that can keep up with modernization and large-scale undertakings.
4. Signature Healthcare

Signature Healthcare describes itself as a family-based healthcare company offering integrated services across 10 states. The company deals in skilled nursing, rehabilitation, assisted living, memory care, home health, cognitive care, and telemedicine.
In fact, the company employs 14000 employees that have worked tirelessly to make Signature Healthcare the fastest-growing private nursing home company in 2017.
The company has its home base in Murfreesboro, TN, and has a network that incorporates more than 12000 SNF beds in their 104 facilities across all the states.
5. Consulate Health Care

With Consulate Health Care, we really shift our focus onto the big leagues in terms of network and revenue. This company brings with it an annual revenue of $760 million and a vast network of 138 facilities across 6 states.
With a headquarters in Pennsylvania, Consulate Health Care has rapidly increased its market presence since 2007, and as of today, it can boast of a total count of 12480 SNF beds.
Consulate Health Care offers services that range from assisted living and dementia care to long-term senior living. However, the company has carved out a niche for itself in the field of post-acute care for the elderly.
6. Senior Seva Care

Senior Seva Care prides itself on being the flag-bearer for quality nursing homes and assisted living facilities targeted toward the betterment of migrant communities in the USA.
That said, the company, based out of Georgia, offers scalability and customization of services for every patient – a commendable offering with little competition.
Earning an annual revenue of $1.5 billion, the company has established an impressive network across 22 states, with over 120 facilities and nearly 20000 SNF beds.
7. Pro Medica Senior Care

A non-profit nursing home company, Pro Medica Senior Care, lists skilled nursing and rehabilitation, hospice care, memory care, palliative care, and assisted living as their areas of expertise.
Despite being a non-profit, Pro Medica has excelled in the industry over the past few years and racked up centers in 17 states. Moreover, the company has 162 facilities with nearly 23000 SNF beds.
As far as the company's annual revenue is concerned, Pro Medica generates revenue worth $6 billion.
8. Ensign Group

The Ensign Group is a two-decade-old group that is headquartered in California. In comparison to Pro Medica, the group only brings in $1.8 billion. However, the Ensign Group's network is much superior to Pro Medica.
The group's primary focus lies on the rehabilitation and nursing facilities for over 9000 senior persons in need of assisted living care. With 219 facilities across 28 states, Ensign Group's SNF bed count includes over 23000 beds.
9. Life Care Centers of America
The Life Care Centers of America offer their services across 28 states and emphasize their offerings on extended medical care and skilled nursing. Furthermore, the company also deals in inpatient and outpatient rehabilitation and post-operative recovery.
The company employs about 200 skilled nurses in addition to the rest of its personnel force. Run from their headquarters in California; the Life Care Centers mint a whopping $4.3 billion in annual revenue from their 209 facilities in 13 states.
With more than 27000 SNF beds in their facilities, the company is geared to offer world-class nursing services, regardless of your specific requirements.
10. Genesys Healthcare Corporation

Easily one of the largest healthcare and nursing home corporations, Genesys Healthcare sits at the top of this list in terms of its network of facilities across the USA and SNF bed count.
Albeit their annual revenue is $3.4 billion, the Genesys Healthcare Corporation dominates the nursing home industry in the USA with over 350 facilities in 26 states.
The capability of this Pennsylvania-based company to house patients and seniors requiring nursing care sits at much higher than its competitors, with about 42000 SNF beds throughout their facilities.
Wrapping Up
Given the percentage of the aging American population, sooner or later, the aging society will turn to assisted living centers and nursing homes to access quality care. With comprehensive services that could cover nearly every service that patients could require, these nursing home companies could solve your nursing needs. That sums up the list of largest nursing home companies in the USA.