At the year-end of 2019, we witnessed a sudden outbreak of novel virus COVID-19 also known as coronavirus, which has surfaced to be a constant threat to regular human life. People have lost family and friends due to the perils of the virus. The business world has been detained from its operation. Since the virus has affected people at a global level resulting in halting life to one point, many entrepreneurs have suffered significant losses, while many are still struggling with the new fashion of digital platforms and work from home. We surveyed in this adverse time to check our clients' current scenario and site visitors. We wish to have a clear idea of how their marketing campaigns are running presently and the outcome they are receiving from the audience. We had many questions that were developed with the sole motive of analyzing the plight of B2B marketers and how to resolve it. It is believed that this is the new normal for all of us. Therefore, we seek understanding so that we can help our clients with quality leads and a more comprehensive market approach so that they expand their business in all directions freely.
At Medicoreach, we are working towards matching the changing dynamics of B2B marketing strategies. This survey has questions based on your marketing practices and their results. It will support our new initiatives and old aspirations altogether.
In today's crisis of the global pandemic COVID-19, digital marketing is the only solution for changing traditional healthcare marketing plans. Digital platforms are the hack for yielding quality leads and more extensive market outreach. It is cost-effective, which is very important in times of COVID-19. From providing telemedicine solutions to expanding brand name, digital platforms are the only sustainable business model that can live up the objectives. However, many entrepreneurs and marketers are still hesitant to adopt digitalization as part of their marketing plan. It results in losing out business opportunities. Due to the COVID-19, the healthcare industry is having constant demand for some of the fields. Therefore, one should not miss out on current opportunities. Due to a lack of marketing insights, the fear of investing in digital campaigns get vivid. However, some are slightly ahead and have taken initiatives to shift to digital mode. This survey will help us identify healthcare marketers and their campaigns from the B2B point of view. For instance, 10 out of 15 surveys suggest that marketers are not investing in email marketing for a long time. Here the question arises that why marketers are distant from the benefits of an email marketing? Let's look at the survey to develop a better understanding of the companies' present situation and their marketing campaigns.
Email Marketing Campaigns: 
Our survey was focused and direct in approach. We asked our site visitors about the relevance of digital mode of marketing like email campaigns. As the study was directed towards the current phase of the COVID-19 crisis, we ensured to analyze the current status of the marketers and not beyond that. At Medicoreach, we wanted to ensure that the participants can relate to the survey and answer it genuinely.
We directed one of the first questions towards the marketers if they are using email marketing campaigns at present for accelerating their business paddles. This question was put to understand the mode of marketing their product and services. Their answer was astonishing, especially at this pandemic time. Since the world is locked at homes, the only source of connecting with clients is through emails and digital platforms. However, 60 percent of marketers were deprived of using email campaigns for their healthcare promotions. And only 40 percent of the participants were active on email campaigns. However, what brought us hope of positivity is the fact that marketers were willing to get involved in email marketing and initiate their step towards the digital mode of marketing, which is extremely necessary in a situation of pandemic. They are ready for email marketing campaigns and follow the industry standards to compete with fellow rivals. The urge to gain success seemed dominant.

Marketers Using Purchased Email Lists: 
As we claimed earlier, most of the businessmen were refraining from the use of email marketing campaigns. However, with the change in mindset, they seemed willing to consider purchasing an email business list. They had a preconceived notion that listings are inaccurate and not useful. Instead, they had been building their email list, which was time taking. With this survey, we retrieved information that about 20 percent were making their business list. Due to fear of authenticity, they were mismanaging their resources by investing them in business list development. When we asked them if the business will bounce back to normal in a couple of months, they didn't seem very confident of the idea, and 80 percent of them said 'no.' Here, we believe it becomes essential to retain the resources and trust the old and authentic service providers to supply an email list for marketing purposes. The perception of marketers tends to change with time since there is an increasing number of reliable data companies in the healthcare industry. This way, they may focus on developing strategies rather than building an email list.
Declining Revenue: 
Due to sudden economy fall at the global level and companies halting their regular business, there is a sudden decline in revenue that our participants faced. On being asked if they have witnessed any fall in the revenue rate, especially during the time of COVID-19 outbreak, Out of all the options we provided more than 45 Percent accepted revenue decline (ranging more than 90%), whereas 20 Percent mentioned revenue decline (ranging between 40% – 90%), 15 Percent mentioned revenue decline (ranging of 20% – 40%) and rest 20 Percent mentioned with less than 20% decline in revenue. It is believed due to the unexpected virus spread out, and the economy has trembled. At the same time, due to less usage of email marketing, the marketers have not been able to communicate with their clients resulting in revenue fall. It is essential to keep the interaction going with clients, or else the competitors can easily walk in your position.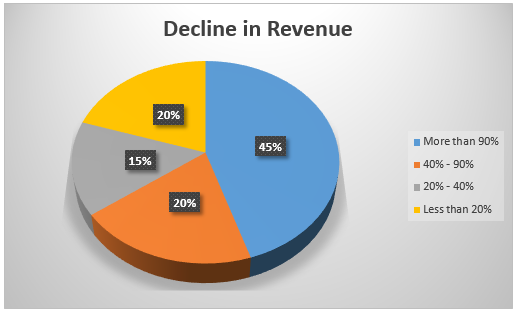 Employment Generation: 
We enquired about our participants if they have recruited any new members in their company, and unsurprisingly 80 percent of them didn't make any employee addition. The novel virus has impacted employment in every field, with people getting laid off by their companies. The globe is suffering economically and medically too. Many countries do not have enough resources. Therefore, the decline in employment generation came as no surprise based on our survey.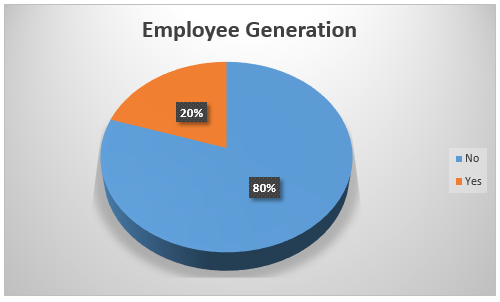 Digital Platforms: 
We enquired about our participants if they are using any other digital platform for product and service promotion apart from email marketing. About 35 % of them are using social media, while 27% on search engine optimization, 18% on Pay per click Advertising, 13% on Affiliate marketing and rest 7% on other platforms for promotional purposes.
Email Marketing Objective during COVID-19 
As the number of email users is expected to touch 246 billion, marketers across the globe from every industry are interested in investing in email marketing. They wish to receive its benefits, especially during COVID-19, when we do not know when the world will take a sigh of relief from the uncured virus. Marketers are embracing email marketing as an initiative to promote their products and services. It is also helpful in improving CRM. By considering the analysis of our survey, we have understood that there's undoubtedly tension in the healthcare industry due to COVID-19, and marketers have serious responsibility on them to improve the situation by limited resources. As per our survey, it is likely the best alternative to move to a digital marketing model to yield the best results.
Get ready to fight COVID-19 in all spheres!
The survey has benefitted us in understanding our participants and their business perspective. It gave us insights into their marketing world and their approach towards email marketing. With the real-time data shared, we hope to see an improved scenario in the future and be more equipped with a wide variety of digital alternates to fight times like COVID-19 in a better and smarter way.